"The Indebted Earl" but Erica Vetsch
Book Three in the Serendipity and Secrets Series
My rating: 5 out of 5 Stars
About the Book:
Can Captain Wyvern keep his new marriage of convenience all business–or will it turn into something more?
Captain Charles Wyvern owes a great debt to the man who saved his life–especially since Major Richardson lost his own life in the process. The best way to honor that hero's dying wish is for Wyvern to escort the man's grieving fiance and mother safely to a new cottage home by the sea. But along the way, he learns of another obligation that has fallen on his shoulders: his uncle has died and the captain is now the Earl of Rothwell.
When he and the ladies arrive at his new manor house in Devon, they discover an estate in need of a leader and a gaggle of girls, all wards of the former earl. War the new earl knows; young ladies and properties he does not. Still wishing to provide for the bereaved Lady Sophia Haverly, Charles proposes a marriage of convenience.
Sophie is surprised to find she isn't opposed to the idea. It will help her care for her betrothed's elderly mother, and she's already fallen in love with the wayward girls on the Rothwell estate. This alliance is a chance to repay the captain who has done so much for her care, as well as divert her attention from her grief. When Wyvern returns to his sea commission, she'll stay behind to oversee his property and wards.
It sounds so simple. Until the stalwart captain is arrested on suspicion of smuggling, and Sophie realizes how much he's come to mean to her. Now she'll have to learn to fight, not only for his freedom but also for his love.
Click here to read an excerpt.
My Thoughts:
Erica Vetsch has quickly become one of the authors that I want to keep at the top of my list!
This series has been utterly marvelous, and I loved having the chance to read this third book. It didn't disappoint in the least <3 The characters were lovely, and I easily became attached to them. Yes, the beginning was a bit sad because Sophie's fiance' dies (not a spoiler XD), but how the whole novel progressed was beautifully done. 
The Captain was great. I definitely loved him, and Sophie was fantastic, and the three little girls who became the Captain's wards were darling!! I especially loved Thea; she was hysterical and so full of character.The plot was engaging as well; I'm always in for a marriage of convenience story, seriously. This series has been wonderful for that aspect. Each story has been unique and exceptional.
And in "The Indebted Earl" we got to see Marcus from "The Gentleman Spy" a few times, which I looooved. Marcus was a favorite hero of mine so I wasn't complaining to have him back. ;)If you like Regency Romance, don't miss the Serendipity and Secrets series!
About the Author:
Erica Vetsch is a New York Times best-selling and ACFW Carol Award–winning author. She is a transplanted Kansan now living in Minnesota with her husband, who she claims is both her total opposite and soul mate. 
 
Vetsch loves Jesus, history, romance, and sports. When she's not writing fiction, she's planning her next trip to a history museum and cheering on her Kansas Jayhawks and New Zealand All Blacks.
 
A self-described history geek, she has been planning her first research trip to England.
 
Learn more about Erica Vetsch and her books at www.ericavetsch.com. She can also be found on Facebook (@EricaVetschAuthor), Instagram (@EricaVetsch) and Pinterest (Erica Vetsch).
Giveaway
There's a fun giveaway apart of this tour, so make sure to visit this LINK to enter!!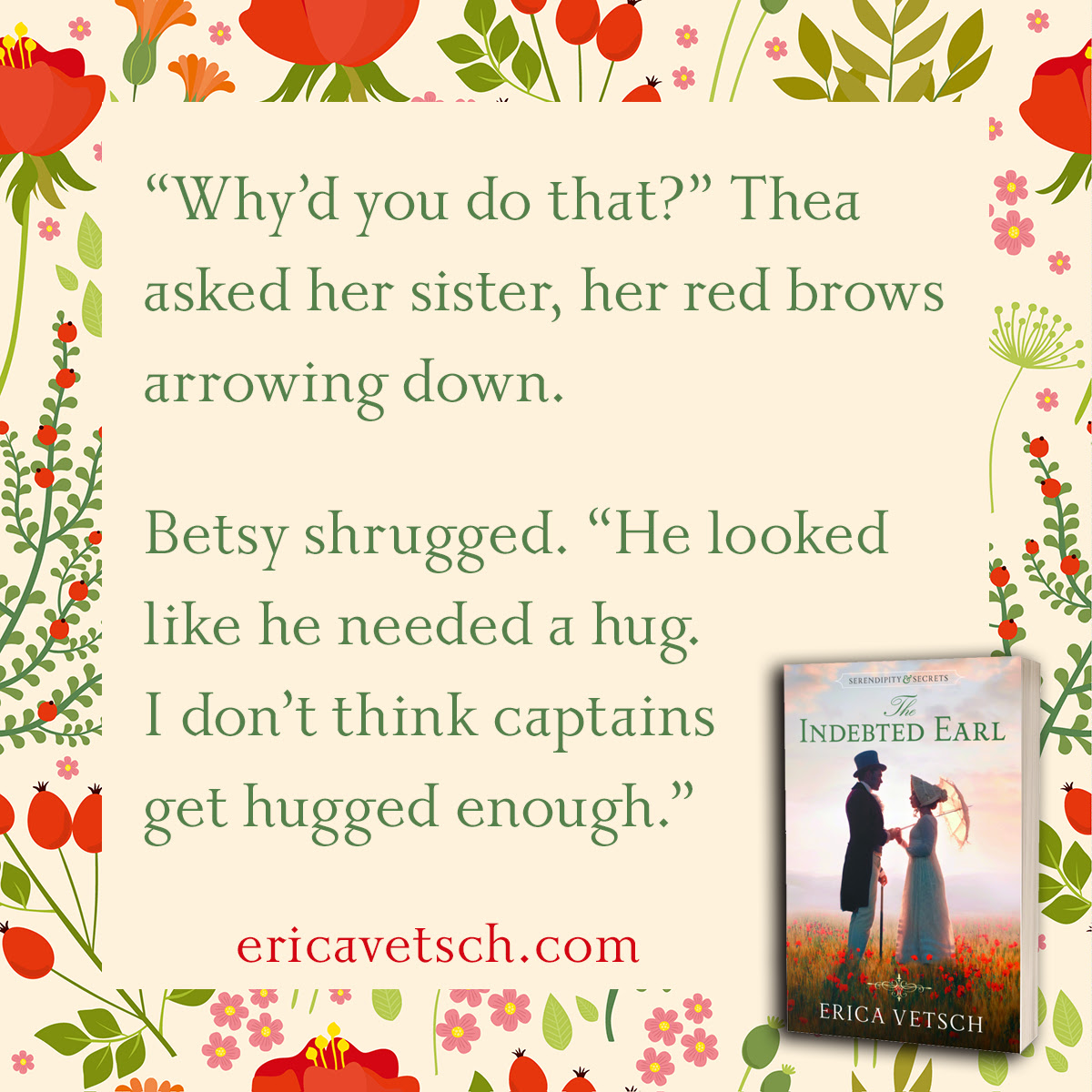 Review copy from the publishers as apart of I Read With Audra Tours. I was not required to write a positive review.