Another year is coming to a close. Seems so soon, doesn't it?
This past year I've been able to read quite a few lovely books! In fact, I've read over 50 this year, which is a new record for me. :) I thought I would share what books I read this year, and which ones absolutely touched me and remain on my 'favourite' list!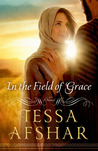 (If you click on the image of each book, they will lead to my review of it, if applicable. The last one "At Home in Last Chance" will be reviewed in January).
So that is it – or at least most of them. These are the ones I added on Goodreads (and the images are from that site as well); there were a couple others that I read, but forgot to add to GR…
As some of you may remember, a good percent of these were review books. I liked more than half of the books I read, which is always a good thing! As for my favourites, it is really hard to choose, and the list might be too long, so I will try to keep it short and list one the ones that I super loved (in no order):
"God's Daughter" by Heather Day Gilbert
"The Well" and "The Thief" by Stephanie Landsem
"Visible Threat" by Janice Cantor
"Pearl in the Sand" (though I've read it numerous times before), and "In the Field of Grace" by Tessa Afshar
"For Such a Time" by Kate Breslin
"Daisies are Forever" by Liz Tolsma
"The Cross Centered Life" by C.J. Mahaney (oh my word was this amazing!! Everyone should read this)
"The House of Mercy" by Alicia R. Ruggieri
"A Broken Kind of Beautiful" by Katie Ganshert
"A Distant Melody" and "A Memory Between Us" by Sarah Sundin
"Kingdom's Dawn", "Kingdom's Hope", and "Kingdom's Edge" by Chuck Black
"Love  Amid the Ashes" by Mesu Andrews
"The Crown of Anavrea" by Rachel Rossano
"Destiny Defied" and "Destiny Delivered" by J.A. Marx
"Ransomed" By Elizabeth Ender
Like I said, there were many!! I truly adored each of these books and they made huge impacts on my life. :)
So, what books did you read this past year, and which made it to your favourites? I'd love to hear!