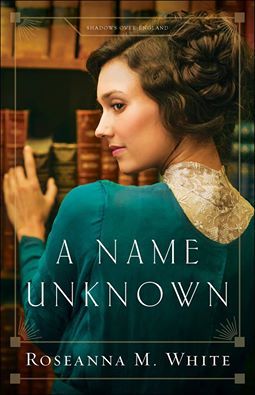 "A Name Unknown" by Roseanna M. White
First book in Shadows Over England.
Review copy from publishers through Litfuse Blogger Program
My Rating: 5 out of 5 Stars
About the Book:
Rosemary Gresham has no family beyond the band of former urchins that helped her survive as a girl in the mean streets of London. Grown now, they concentrate on stealing high-value items and have learned how to blend into upper-class society. But when Rosemary must determine whether a certain wealthy gentleman is loyal to Britain or to Germany, she is in for the challenge of a lifetime. How does one steal a family's history, their very name?
Peter Holstein, given his family's German blood, writes his popular series of adventure novels under a pen name. With European politics boiling and his own neighbors suspicious of him, Peter debates whether it might be best to change his name for good. When Rosemary shows up at his door pretending to be a historian and offering to help him trace his family history, his question might be answered. 
But as the two work together and Rosemary sees his gracious reaction to his neighbors' scornful attacks, she wonders if her assignment is going down the wrong path. Is it too late to help him prove that he's more than his name?
My Thoughts:
The cover alone makes this book a worthy addition to any bookshelf. But add in the amazing story, and you know "A Name unknown" is a definite keeper!
The story pulled me in immediately, and I was drawn right into the world of these characters. There were many unique twists, and mysteries, and the history was woven beautifully into the story. But one of the best elements of this book was the heart of it – the Faith aspect. I was very pleased with it, and there were many places I marked down. It was gentle, and beautiful, and meaningful. To me, a Christian fiction's main theme should be revolved around a godly message – one that is filled with Christ, and I was ever so pleased to discover that in this novel. Personally, when I pick up a CF title, I don't want it to just be 'clean', I want it to be filling. And "A Name Unknown" was that.
I loved the characters – Rosemary and Peter. Oh, Peter was just darling! I liked him right away, and Rosemary too. They were very different characters to be sure, but blended so well and balanced each other out.
Rosemary a thief, and Peter a secret novelist. They both have so much richness to them!
As a writer myself, I loved Peter and seeing his writing mind take over; how he'd get lost when thinking up a new idea – very relatable. :) And his overall love of books and letters! Be still my heart. ;) He was just splendid.
I just really loved the characters – how real they were, and how they didn't always do what you expected. Life doesn't always go as expected, and that was portrayed so well in this book.
Every page begged to be turned again, not left unread. If only I had an ample amount of time to read from beginning to end! But still, I savoured this book for the time it took me, thoroughly enjoying every minute of it. And set right before WWI broke out – a very fascinating time to read a novel in.
So yes, I can definitely recommend this one! Fellow booklovers, you will fall in love with "A Name Unknown"!
Those were just a couple of my favourite quotes. I have several others, just without images:
"Were he a different man, one who could command a presence and charm people wherever he went, perhaps he would have struck off to see more of the world than this imitation jungle. Perhaps he would have made his own way, cut his own path with machete and pistol. As it was, even the jungle of London sent him running for cover." – Pg 30
"Treasures were never where one sought it." Pg 48
"I am by no means an expert, of course, but love of the written word runs deep in my family- also no great mystery to you, having seen the library. But I do hold fiction in especial esteem. Fiction is a way to express mankind's deepest heart. His fears. His hopes. His failings. His successes. Fiction is truth…in a pretty wrapping." Pg 56
"Everyone needs a distraction from sad things. Especially when there is nothing they can do about them." – Pg 211
"Peter had used it as an example in one of his notes this week. That giving one's life to God was very much like what she'd done with those dresses of Jenny's. It was still the same fabric – still the same basic person. But just as she'd changed the shape and drape and the seams, God remade the old man into a new one. But unlike the dress, which had no say, people had to choose to put themselves in God's hands. He wouldn't start snipping and sewing against their will." – Pg 292
"You listen to me, Rosemary Gresham. If Jesus could save tax collectors, and harlots, thieves and hypocrites, who are you to say you're too far gone, hmm? Our God is bigger than our sins. And if there's something saying otherwise into your ea, know it's a lie straight from the devil." – pg 383
And believe it or not, I still have more that I marked down, but I won't overload you with them all. ;)