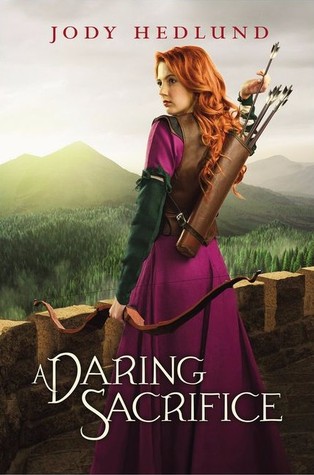 "A Daring Sacrifice" by Jody Hedlund
Book Two in the "Uncertain Choice" series
YA medieval fiction
Source: BookLook Bloggers
My Rating: 1 out of 5 Stars
About the book:
The only thing harder than fighting for what's right…is fighting their feelings for each other.
For three years, the Cloaked Bandit has terrorized Wessex, robbing the nobility by knifepoint and a well-placed arrow. But little dos anyone know, this bandit is in fact Juliana Wessex, the rightful ruler of the land and a girl her tyrannical uncle—the current Lord Wessex—believes was killed along with her father.
Juliana has become skilled at hiding from Lord Wessex in the forest, using her stolen goods to provide food and shelter to the peasants her uncle has taxed into poverty. But when she robs Collin Goodrich, her red hair betrays her true identity. Lord Collin remembers Juliana from their childhood—and challenges her to stay on his estate for a week in hopes she will leave her thieving ways and become a proper lady once more. Juliana is intrigued by Collin and his charms, but only time will tell if he can overcome her distaste of the nobility—as well as win her heart.
My Thoughts:
Well, I have to be honest and say I did not – could not – finish this one. I made it over halfway through before giving up, though I did read the last chapter and skimmed bits and pieces of the end.
I was nervous to start it because I had concerns from "An Uncertain Choice" but I wanted to carry through with the series and find out more about the other two knights introduced in An Uncertain Choice. Unfortunately, I found it very disappointing and cannot recommend it, especially for the age-group it's targeted for. I read through over half way of the book before setting it aside, and even then I had numerous marks of spots that were just…terrible and so inappropriate. YA readers should not be reading this kind of books, especially in Christian YA. Truly, I was…am…disgusted with the content of this book. The cover is gorgeous, but the concept is one overly used, and the writing was even a bit choppy. But what was the worst was the highly inappropriate romance, and extremely graphic torture descriptions. Like, nasty. I can give examples if need be, but I won't include them here for not wanting to disturb my readers.
There were just a LOT of mentions of "rippling muscles" and other gross innuendos that were so not necessary. This book hit me more as one of those embarrassing adult romances rather than what was supposed to be an innocent and adventurous YA Christian fiction.
There was no godly theme, and it just was not a book I could recommend. I can't really express my sadness and disappointment over this book justly, because it really does grieve my heart. I am not trying to attack the book, and certainly not the author, but we should be providing good, wholesome, and still exciting books for our YA readers. For all readers. We can have exciting without inappropriateness and graphicness of any sort. But this book was unfortunately those as well as other unnecessary things.
(A side note: I had left my copy of the book out, sticky-marked and all, and my cousin was over and he picked up the book, and looked at the marks, then told me "This is a very creepy book". Made me laugh, but it's true – by the marked spots, it is … disturbing.)
I received a complimentary copy of this book from BookLook in exchange for my honest review which I have given
Do you agree with my review? Do you want to vote it up on Amazon? You can do so HERE.